SAND SEPARATOR AND INDUSTRIAL WASTEWATER PURIFICATION: SEFT S.r.l. DESIGNS AND CREATES A VARIETY OF INDUSTRIES LONG-LASTING SAND SEPARATOR THAT SEPARATE SAND AND SOLIDS; WE PUT OUR ADVANCED TECHNOLOGY AT THE SERVICE OF OUR CUSTOMERS, IN ITALY AND IN THE REST OF THE WORLD.
Sand classifiers (or sand separator) are machines designed specifically to classify and separate sand present in wastewater.
They are composed of a decantation hopper, a shaftless screw (for the extraction, conveying and discharging of sand) and a U-trough.
For the purification of industrial wastewater: the sand separator produced by SEFT S.r.l. is a completely closed machine, without intermediate and end supports, which also allows sand washing before discharging, all with little maintenance and a low initial investment. The advantages of a SEFT S.r.l. sand separator, as well as its applications and optionals, are multiple. 
It is available in the CLS version – sand separator with a sized screw (of the type without shaft inside) for extraction, conveying and discharging of sand – and CLS-LC – sand separator-conical washer, suitable for separating, classifying and washing sand presents in wastewater of all origins: from municipal to industrial water purification for the different industries.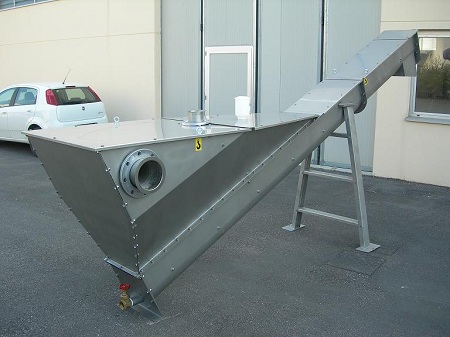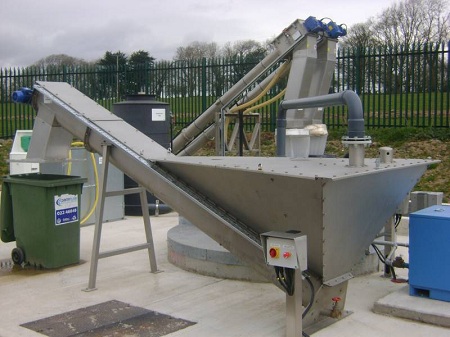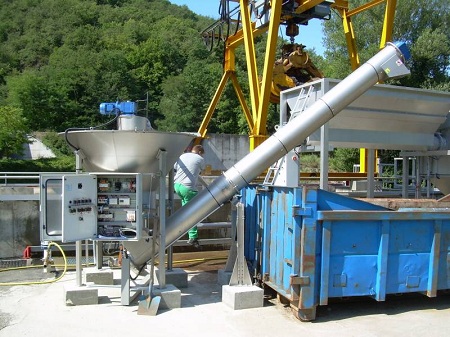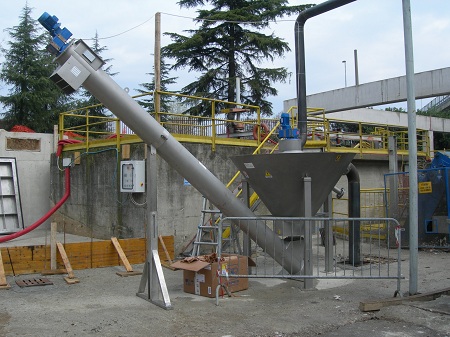 VDS – COMPACT SYSTEM FOR SAND REMOVAL AND WHASING
Combined machine able to perform two functions simultaneously:
• removal and grit
• Oil removal/degreasing
The effluent is fed to the machine through a fixed pipe and decants in the tub; the sands are then removed by a system of augers, while fats and oils surface are removed from the system of deoiling, by an air bower.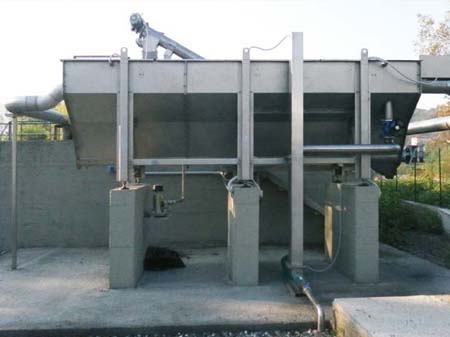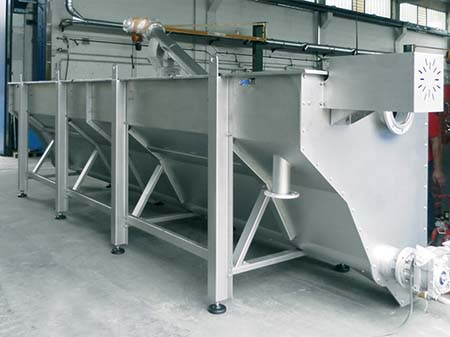 GRIT CLASSIFIER "PISTA"
The solid material, with high content of water, enter into the hopper and settle on the tank.
The first part of the water comes out of from holes of the lower part of the trough, then the material begin to go up towards the upper side of the compactor.
The mixing blades have a big thickness and with a slow rotation movement, carry the material towards the upper side of the trough.
During the transport, the material begins to drip and, on the final part of the trough, a little door, with a variable pressure, compresses the material before it go out.
The material, pressed and without water (about 40% of reduction) goes on in a special containers.
The water on the lower part and in the upper side of the trough is collected in a tank and, if necessary, sent for the treatment.
In case of the solids settled on the floor agglomerate until to block the pipe of extraction, the grit classifier has a "unjamming" pipe.
It goes on the bottom of the tank, near the end of the tube of extraction.In case of obstruction of the tube of extraction, a jet of water through the "unjamming" pipe re-establish the circulation of solids.
FIELDS OF USE
Civil discharging, industrial discharging, food processing, zootechnical, farming, slaughterhouse, paper factory, tannery
ADVANTAGES
High flow rate
Full capacity separation water-sand